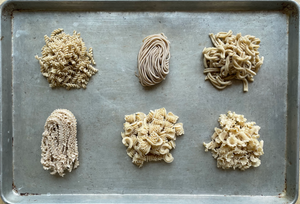 Ciao Amici!
We are L'Isolina Pasta and our pasta is crafted locally on the East End of Long Island.
L'Isolina Pasta is made with Local, Flavor-First Whole-Grains grown by Amber Waves Farm and Balsam Farms right in our backyard. Our Partner Farms grow heirloom varieties that have been selected for flavor, and then grown and stone-milled with respect and care. You will taste & feel the difference!
Paying homage to the traditional techniques perfected in Gragnano (the pasta capital of the world) L'Isolina Pasta is drawn through bronze dies in small batches, and slowly air-dried at low temperatures to ensure superb texture, quality, nutrition and flavor. We hope you love it!